Subwoofers boost not only the low-end but also increase the richness and quality of sound coming out of your system. Wireless subwoofers are becoming more popular as days pass. However, most of them are limited to a closed ecosystem where you can only use them with speakers from the same manufacturer. In this guide, we have evaluated the best wireless subwoofers for this year. Our top picks carter for any budget or the size of the room in question. For more information on wireless subwoofers, see our comparison table and buying advice below.
| WIRELESS SUBWOOFER | RMS* | DRIVER | DIRECTION | FREQ.** | DIMENSIONS |
| --- | --- | --- | --- | --- | --- |
| Klipsch R-12SWi | 200 | 12″ | Front-Firing | 29 – 120 Hz | 14″  x 18.5″ x 16″ |
| Sonos Sub | Unknown | 2 x 6″ | N/A | Down to 25Hz | 15.8" x 15.3" x 6.2" |
| Audioengine S8 | 125 | 8″ | Down-Firing | 27-180Hz | 11.25″ x 11.25″ x 11.25″ |
| Amazon Echo Sub | 100 | 6″ | Down-Firing | 30-200Hz | 8.3″ x 8″ (Cylinder) |
| B&W Formation Bass | 250 | 2 x 6.5″ | Front/Rear | 20-150Hz | 11″ x 10.2″ x 10″ |
RMS* = RMS Wattage *
FREQ.** = Frequency Range
1. Klipsch R-12SWi – Our Best Wireless Subwoofer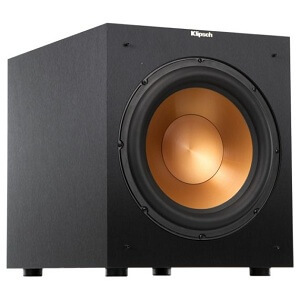 Wattage: 200 (RMS)
Driver Size: 12″
Direction: Front-firing
What We Like: excellent build quality, Easy to set up, great bass response
What We Don't: nothing much
Klipsch is renowned for the number of home audio products they offer. From speakers, headphones, amps, subwoofers, etc., their products have gained popularity in the market. The Klipsch R-12swi is one of the best-powered subwoofers around. The sub sounds great, and the wireless connectivity is excellent. Read more in-depth below.
The Klipsch R-12SWi comes in a box design like most subwoofers out there. Like most Klipsch subwoofers, the speaker has a copper color that looks very nice. The sub features a 12″ sub driver that is front-firing. A grille is included, which covers the driver for a minimalist look. The subwoofer's build quality is excellent and very well executed. On the back, the subwoofer has a ported design, and you will also find the control knobs, switches, and ports of the sub.
To enable wireless connectivity, the Klipsch R-12SWi comes with the Klipsch WA-2 wireless subwoofer kit. The WA-2 can also be purchased separately to add wireless capability to an existing subwoofer. The advantage of getting the sub along with the kit is that it comes pre-paired – you plug it to power, connect to your receiver and play. Wireless set up is great, and we did not notice any lag or delays in the sound. Though set up is a breeze, with this sub, you will still have to set crossover and phase to match your current speaker's specs and your preferences(read or crossover and other settings below).
The Klipsch R-12SWi is designed to for use in moderate-sized homes. The subwoofer is very powerful, shakes the house with heavy bass, and sounds great. For movies and music, the sub did quite an excellent job of reproducing the low notes. The bass response is clear and thumps with authority. Overall, the bass quality coming out of this sub was impressive.
Easy setup, no delay in the sound signal, great bass response are some of the perks that come with the Klipsch R-12SWi. The sub with the included wireless transmitter should work with almost any receiver out there. It might not be the best, but for the price, it is an excellent investment.
See The Klipsch R-12SWi
2. Sonos Sub – A Unique Shaped Wireless Sub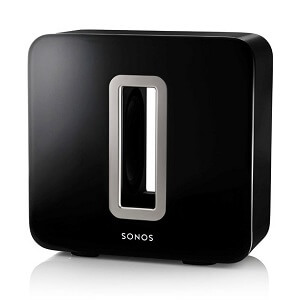 Wattage: Unknown
Driver Size: 2 x 6″
Direction: N/A
What We Like: Clear and deep bass without rattling, easy setup, sharp and beautiful looking piece of equipment
What We Don't: Expensive, Works with only Sonos gear
When the Sonos wireless subwoofer launched in 2012, it was a boost to the company's range of speaker and soundbars. Back then, the best offerings from Sonos included the Sonos Play 3 and Play 5. Since then, the company's portfolio has grown to have the Playbar, Playbase, and Beam. The sub compliments the Sonos home theatre line-up.
Unlike most subwoofers, the Sonos wireless subwoofer comes with a unique design. Like all Sonos devices, the Sonos sub has a minimalist design. The sub has a box shape with a rectangular opening in the center that shows the sub's two 6″ drivers. The overall finish is excellent, and the quality shows it. The sub is available in a black gloss finish or white gloss finish. Apart from the underside of the sub, there are no buttons or imperfections on its casing. The bottom of the sub reveals a power port and an ethernet port. The size of the sub is large, and its weight is 16kg.
The major downside of the Sonos wireless sub is that you cannot use it with equipment from other manufacturers. So, if you've got an existing home theater setup that is not Sono's, you are out of luck. Other than that, the first set up process is easy. The sub will work with any Sonos speaker and is an excellent supplement to other devices like the Playbase, Playbar, or beam.
After a successful setup, you can control the app through the Sonos controller app on your smartphone. Once you install the app, it takes you through the setup process, which is very easy. The downside of the Sonos app is that the interface looks outdated. However, if you get around the outdated design, it is straightforward to use and offers the various sub adjustments to customize it to fit your preferences.
To test the sound quality, we used the Sonos sub with a set of Sonos One smart speakers. The Sonos subs add depth to music and movies. Unlike other subwoofers, the Sonos sub does not rattle or vibrate. This is because of the face-to-face positioning of the two speaker drivers, and it results in a very tight and punchy bass.
Overall we were impressed with the results. It is effortless to set up and guarantees clear and deep bass response at all times. The downside is that you will need to own Sonos gear to use the sub. A set of Sonos One smart speakers is cheap and should get you started. The only major negative is the price, which is a bit questionable. However, they are high quality and put out clean, undistorted bass when demanded.
See The Sonos Sub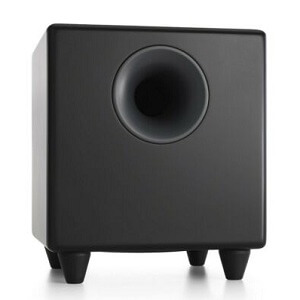 Wattage: 125 (RMS)
Driver Size: 8″
Direction: Down-firing
What We Like: Compact, wired option available, good wireless audio adapter
What We Don't: Price
Audioengine is an American owned company that is renowned for its desktop PC speakers, DACs and amplifiers. One of their most popular speakers is the A5+ wireless, which is regarded as one of the best bookshelf speakers around. After loving some of their speakers and amplifiers, let's see how the S8 subwoofer performed.
The Audioengine s8 has a minimalist approach in its design. The subwoofer is compact and has a square shape with beveled edges. The enclosure of the subwoofer is front-ported and features an 8″ down-firing speaker. The sub comes in two colors, white and black, but we prefer the black one. The backside has all the controls and ports of the sub which include volume, phase, and crossover. A 3.5mm input port, RCA, and SVDC offer connectivity options.
Though the Audioengine S8 offers a wired connectivity option, the wireless option comes with a wireless audio extender that offers wireless connectivity. The Audioengine W3 Wireless Audio Adapter Kit exists to enable you to play music wirelessly from a computer or any device to Audioengine's speakers, subwoofer, or stereo receivers.
To use the Audioengine W3 Wireless Audio Adapter Kit with subwoofer, you will need to plug the sender on your receiver or amp and the receiver part on the subwoofer. Connection with the Audioengine w3 is easy to set up, and there was no noticeable lag. We also tested the W3 adapter kit with a TV and a wireless speaker. The latency was extremely minimal. We tested the sub with different sets of speakers. Once you find the ideal crossover frequency for the sub and a good placement spot, you should be able to hear improvement in the sound quality. Read about the crossover and sub placement below.
The bass quality of the S8 is good. However, the bass is not tight like a sealed sub but has a good impact. It is clear and does not sound muddy in any way. At a lower volume (20-25%), you can feel the bass, and it is also pretty loud. Turning it up to over 50% reduce the quality of the bass, but on the brighter side, we don't think you will need to turn it up that high.
Overall, the Audioengine S8 comes in a compact size, and an excellent wireless connection option makes it a with the partners. At a price, the sub is not exactly cheap. Though we did not test the sub with Audioengine speakers, we have read the sub works very well with them. For a reasonably sized small area, the sub does a lovely job.
See The Audioengine S8
4. Amazon Echo Sub – Best Smart Home-Compatible Subwoofer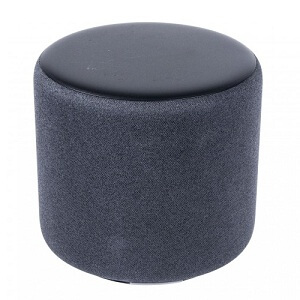 Wattage: 100 (RMS)
Driver Size: 6″
Direction: Down-Firing
What We Like: Compact size, budget-friendly sub
What We Don't: It only works with Amazon Echo speakers
The Amazon Echo Sub is a great idea to improve and get better sound. For smart-home owners who already have the Echo speakers, the Echo Sub is a great addition to bring out the bass out of the system. However, like the Sonos Sub, it is limited to only speakers manufactured by Amazon. Despite this disadvantage, it has several positives an Echo speaker owner will like.
The sub comes in a flat top and bottom cylindrical shape, unlike a cube or large box, as generally expected from a subwoofer. The design is similar to the Amazon Echo speakers line. It features the curved edges and a black mesh fabric grille around the sides. However, unlike the Echo speakers, it is only available in black. The sub is a little raised on the bottom side to allow the sub to breathe. A small notch on the lower side has the pairing button and a power connector port.
When it comes to connectivity, the options to connect the sub to other speakers are limited. The sub only works with Echo speakers, so you will not hook it to your soundbar, TV, or a third-party speaker. With Echo devices, the sub can pair with the Echo studio, Echo Plus (2nd Gen), Echo (2nd Gen), Echo (3rd Gen), and Echo Dot (3rd Gen).
The setup process is designed to be as simple and as fast as possible. However, the set up is also quite tricky, and we repeated the same steps several times before we successfully paired the sub with the Amazon Echo Plus (2nd Gen). All setup is through the Alexa app. If you already have echo speakers, you should first unpair them before you connect the sub.
The sound quality of the Amazon Echo Plus (2nd Gen) smart speakers is fine; however, the addition of the Echo Sub does add the bass and overall improve the sound quality. The bass is also well-controlled and feels louder even in a medium-sized room. Overall, anyone with Echo speakers should try the Echo Sub. It is cheaper and improves the overall sound reproduction.
See The Amazon Echo Sub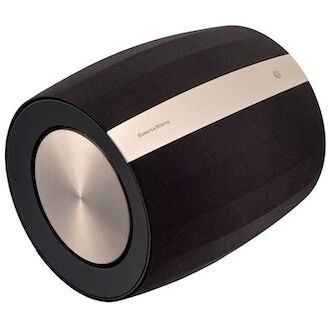 Wattage: 250 (RMS)
Driver Size: 2 x 6.5″
Direction: Front/Rear-Firing
What We Like: compact, dual-ended drivers to reduce distortion
What We Don't: Expensive, only works with other B&W Formation products.
Bowers & Wilkins launched the Formation wireless multiroom system that comes with something for everyone. The Formation suite comes with the formation bar (soundbar), formation wedge, formation duo, formation flex, formation audio, and lastly, the formation bar. The Bowers & Wilkins Formation Bass is like the Sonos Sub, only works with other products in the formation line.
The first thing about the Formation Bass is the shape. While most subwoofers come in cube-shaped enclosures, the B&W Formation Bass comes in a barrel or cask shape. It is not a large subwoofer and comes in black with silver circles on the sides. Everything looks and feels solid and well put together. The shape is like the B&W PV1, which is one of the best subwoofers from the company. We also love the dual-ended driver look, which, as you will learn below, gives an outstanding sound quality.
On the underside of the sub, you get a reset button, a volume knob, a power port, an ethernet port, and a service port. Connectivity, like most wireless subwoofers, is a breeze: No crossover setup or phase adjustment. Just plug the sub to a power source connected with Formation speakers, and you are all set. You will need to download the Bowers & Wilkins app for your iPhone or Android device. Once done, setting up the sub is a one-time project.
Opposed dual-driver technology, a powerful amp, and a dynamic EQ all work to reproduce a clear, dynamic, and punchy low-end performance. For the size, the bass is pretty good. It is not that loud, but it is ideal for small and medium-sized rooms.
Being confined to a specific ecosystem is not something many people would like, especially if you have an existing home theatre equipment. The B&W Formation Bass only works with other B&W Formation products. That, coupled with a hefty price tag, is enough to keep most people away from this wireless sub. If you are already own gear in the B&W Formation, the Formation Bass is a great addition to complete your sound.
See The B&W Formation Bass
Wireless subwoofers are a proper way to get rid of the wires in your home theater system. In traditional wired subwoofers, the sound signals and power are passes via wire connections from the amplifier to the subwoofer. However, in a wireless subwoofer, an in-built wireless receiver is required in the subwoofer to receive audio signals from a transmitter. The transmitter can be built-in or physically connected to the preamp outputs of a receiver.
However, since power cannot be transmitted wirelessly, a wireless subwoofer will need to be physically plugged into a power source and amplifier. The amplifier is built-in for convenience, thus it becomes a powered subwoofer.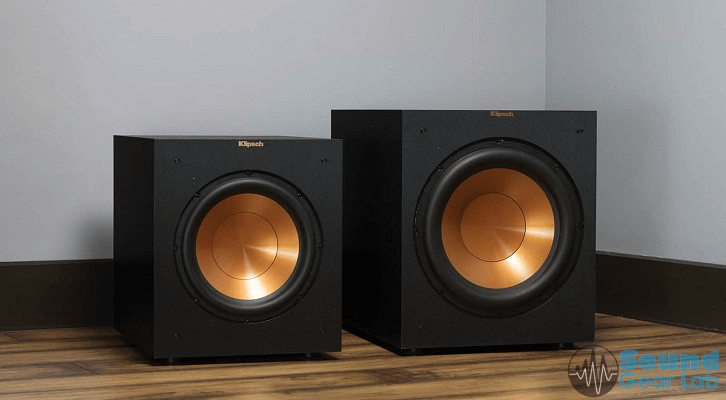 Most home theater and hi-fi subwoofers come with wired connections. However, most subwoofers that come with soundbars are entirely wireless. A wireless subwoofer has several advantages; however, the main one is they are effortless to set up. Most come ready, and all you need to do is plug the power cord, and you are ready.
Although you will still have to figure out where to place the sub, most of the difficulty initial setup is taken out. The downside of wireless subwoofers is not most of them offer better audio quality like wired subwoofers. Also, wireless subwoofers are not entirely wireless, and you will still have to plug them into a power source.
Subwoofers fall into two categories, active and passive subwoofers. An active subwoofer is also known as a powered subwoofer and comes with a built-in internal amplifier. A passive subwoofer does not have an in-built internal amplifier and must be driven with an external one.
Passive Subwoofers
An external amplifier powers passive subwoofers. A subwoofer needs enough power to reproduce the low frequencies with efficiency. Therefore, your receiver or amplifier should be able to supply enough power to the subwoofer. The power requirements of your subwoofer will depend on the watts RMS, impedance, and several other factors. For a passive subwoofer to work well, it should be evenly matched to the amplifier. Correctly matching a subwoofer to your amplifier ensures it is neither underpowered or overpowered. Read more about matching subwoofers and amplifiers at Crutchfield.
Active/ Powered Subwoofers
Active subwoofers come with an in-built amplifier which solves the problem of improper matching your subwoofer to your amplifier or receiver. An active subwoofer is properly matched, removing the hassle of trying to match them separately. As an added advantage, active subwoofers only require a single cable connection from the source or receiver.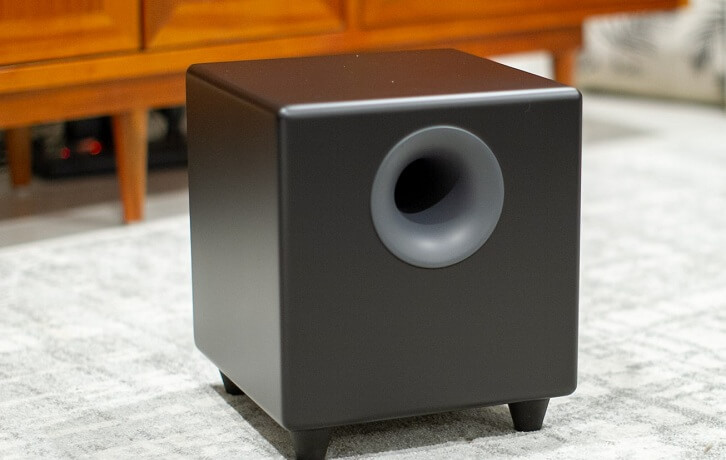 Apart from passive and active, subwoofers are can further be split into two categories: front-firing and down-firing. To figure out which is which comes down to the direction of the driver (the big circular element). If the driver position is in-front, then this is a front-firing subwoofer. A bottom facing driver then becomes down-firing.
Because bass/low-end frequencies are non-directional, It will not matter which you pick between the two in terms of the bass quality. However, depending on the placement of a subwoofer, you can choose whichever fits in your home. If you are planning to place your subwoofer underneath your TV, then it is worth investing in a front-firing subwoofer. If you plan to set the subwoofer at a corner or side of the room, a down-firing will do. Read more about the subwoofer placement below.
Ported subwoofers have one or more openings on the enclosure, which allows movement of air. Sealed subwoofers have a cabinet that is entirely closed. Both of these two types will have an impact on the reproduction of the bass frequencies.
With ported subwoofers, the bass is louder and boomy. Sealed, on the other hand, offer a tighter but sacrifice a little on the volume. Both ported and sealed subwoofer enclosers have their strengths. Deciding on which you will choose will depend on several factors. Room size, overall subwoofer size, playback level, system usage, available floor space, and aesthetic consideration – all contribute to your choice.
Below is a summary table of the difference between ported and sealed subwoofer enclosures.
Type of subwoofer box

Features & Impact

Ported box

Bass is louder and more boomy, less accurate
Larger box size
More efficient, doesn't require as much amp power

Sealed box

Tighter, more accurate bass.
Smaller box size
Needs more power for louder bass
The laws of physics dictate that a bigger subwoofer driver has the potential to reproduce deeper bass with higher Sound pressure levels (SPL) compared to a smaller subwoofer driver. However, bass extension and SPL are not the only vital features to measure a subwoofer's performance, and so not all big drivers will perform exceptionally.
Other factors to consider when checking the performance of a subwoofer with a driver of any size include speed in transients, accuracy, and the ability to blend with full-range speakers.
12-inches driver size is the most common in subwoofers. However, there are subwoofers with bigger driver sizes than 12-inches.
The advantage of bigger drivers is the subwoofer can adequately work in large rooms and will also reproduce serious dramatic bass. However, bigger drivers are also vulnerable to boominess and distortion. Simply put, the bigger the driver, the harder it is to control and therefore offers no guarantee of deeper bass and better SPLs than a smaller subwoofer.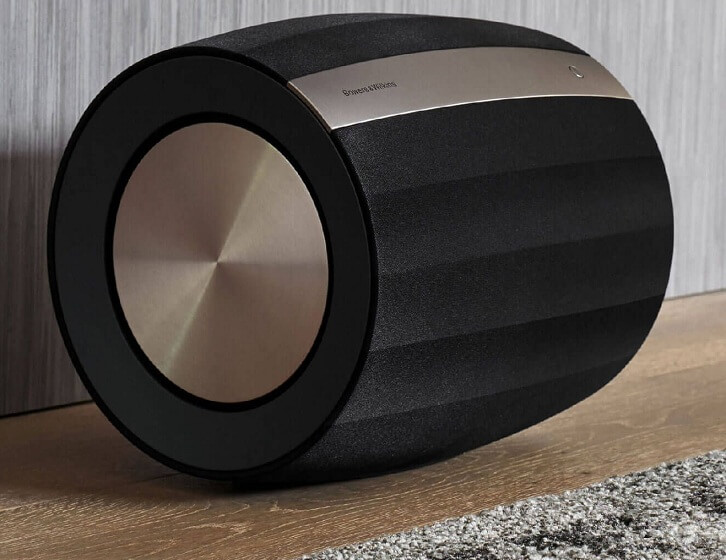 The discussions around subwoofers mainly revolve around two things, driver size, and power. Because we have already discussed driver size above, let's talk about power.
Though there is more that comes with the wattage of a sub, broadly speaking, the more watts a sub has, the louder it will sound without distortion. Therefore, a high wattage amp will cost more than a lower one. In subwoofer wattage, there is RMS (also called continuous), and peak (dynamic). Though both are similar in concept, there are essential distinctions when you start breaking them down.
Root Mean Square, abbreviated as RMS and refers to the power a subwoofer can handle continuously. Because RMS refers to the power a subwoofer will handle continuously, it is reflective of the experience a sub will offer most of the time. Subwoofers with around 1000 watts of RMS power are appropriate for most people. However, you can go higher, depending on your budget.
Peak power, as the name suggests, is the total power a sub will manage but for a short period. The main words in the previous sentence are "for a short period". Peak power could be experienced during a big bass when watching a movie or a loud note in a song. However, we do not recommend using peak power when choosing a subwoofer.
Peak power is mostly higher than RMS, sometimes even five or six times. However, RMS is going to be the better characterization of how your sub will sound mostly. Manufacturers will still advertise peak power as opposed to RMS because they know most consumers are unaware and belive a large peak power handling subwoofer is better.
Subwoofer placement has a significant impact on how your system will sound. Properly setting up your subwoofer will not only improve performance, but you will also get to experience quality bass from your subwoofer.
Where to place your subwoofer will depend on several factors. The size of your room, shape, and your subwoofer are some of the things you should look out before deciding on the final spot. Mostly, subwoofers are placed in the front corner, or front of the room. However, it is crucial to test various spots for the best sound.
Sometimes, subwoofer placement may be limited to only one location. If this is your case, then moving through the room may help you decide the best place to sit. If your home/room has different locations, you can place your subwoofer; then, you can try the 'subwoofer crawl' technique.
'Subwoofer crawl' technique can help you decide the best subwoofer placement location. First, place the subwoofer on your primary listening position. Play a familiar track, and move around the room at/near knee level. While walking around, listen, and evaluate the bass quality. You should be able to pick a location that has a more accurate bass response, place your subwoofer there. The 'subwoofer crawl' technique may seem odd, but it works wonders in helping to determine the best placement location.
For wireless subwoofers, the bass quality might reduce under different circumstances. If there is an obstacle between the receiver and wireless subwoofer, it might affect the bass reproduced. A lack of quality bass can also be caused by devices in the room using the same frequency as the wireless connection of the sub. Examples could be microwave, wireless LAN device, or medical equipment.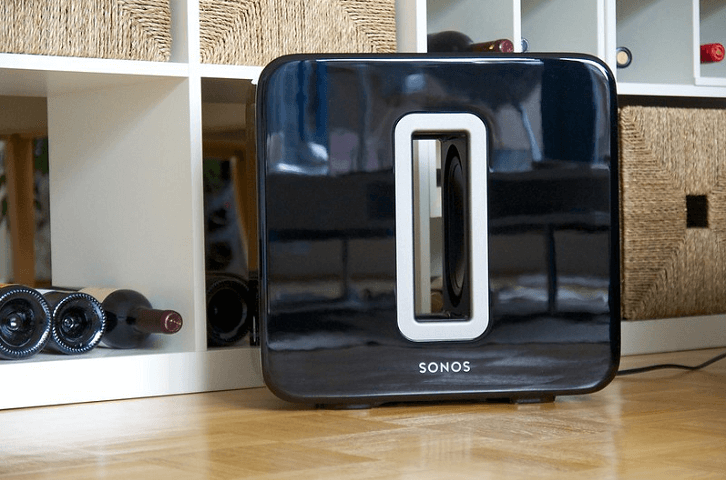 A subwoofer is easy to set up. Just plug an RCA cable into the back of your sub and out to your receiver or amplifier. Lastly, connect the sub to a power source, and you are done. The first-time connection with wireless subwoofers is straightforward and effortless. Connect the subwoofer to a power source and turn it on. Turn on your wireless receiver, and it should connect automatically to your subwoofer.
Setting up a subwoofer can also be complicated and sometimes will depend on the rear panel of the sub. Expensive models might come with a variety of switches and controls that will let you customize the setting for the best bass. Phase and crossover are some of the settings you can manually adjust in most subwoofers.
The phase control, which is also referred to as a polarity switch, has a range of 0 180 degrees. Phase in a subwoofer helps by adding electrical delay to the incoming audio signal, which allows integrating the subwoofers in a room better. To set phase, set your subwoofers so that they are facing the same direction. This will enable you to determine better the sound quality coming out of the subwoofers. When listening to music, you may end up without phase subwoofers.
When subwoofers are out of phase, the bass cancels out, and you end up with poor bass quality. To help with this, you should flip the phase switch either to 0 or 180 degrees and re-listen to the quality of sound, and you are done. With phase try experimenting between 0 and 180 degrees. One may sound excellent than the other, depending on your gear and room. Pick whichever sounds better.
The crossover frequency of a subwoofer is the frequency at which the speakers start rolling off, and the subwoofer takes over with bass notes and LFEs. Based on the capabilities of your subwoofer, most receivers and amplifiers have an auto EQ that automatically adjusts the crossover frequency.
If your system does not have an automatic EQ that adjusts the crossover, then you can manually do it yourself. For example, if your speaker set has a frequency range of 80Hz – 20kHz. It means the crossover point needs to be set at 80Hz. This is the point your speakers will not be able to produce sound, and the subwoofer takes the wheel.
Lastly, adjust the volume until you cannot hear the bass. Then slowly increase the volume to comfortable listening level and stop. You are done setting up your sub.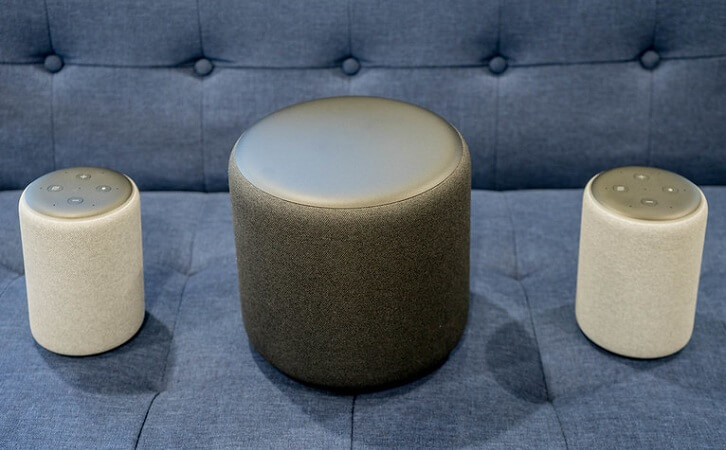 In some cases, it is better to have more than one subwoofer. Common subwoofer configurations are two and four. The bass quality will improve, but you run the possibility of masking other sounds if they are not set correctly.
When getting a new subwoofer, it should not be to add the intensity of the bass. The key thing is to improve the bass quality and to distribute it better throughout a room. Two, three, or even four subs when properly positioned not only reduce room resonancess, but as a user, you will have multiple listening positions around a room.
Back to Our Best Wireless Subwoofer Picks
Back to Our Comparison Table